Take 5: LAST CALL Clear the List!, Hispanic Heritage Lesson, 9/11 reflection, demystifying dyslexia, FREE favorite 📚 poster
​
09/05/23
Hi, Reader,
I want to welcome all of our new, awesome parents, teachers, and caregivers who have found their way to us. We're SO EXCITED! W E L C O M E!
Take 5 is sent weekly on Tuesday (usually--sometimes on busy weeks it takes me a little longer!), and it's packed with 5 must-see things for parents and educators. Free printables, cool articles, games, tips, tricks, or deals. All shoved into a little email that *should* take you 5 minutes to read. Because I KNOW you're so busy.
This is the last week I'll be actively promoting our Clear the List campaign. If every, single one of us shares just ONE TIME, big brands and nice people with $$$ will HAVE TO SEE IT, and it's TOTALLY worth sharing w/ your PTA, on BTSN, and on your community Facebook groups.
Also, please share w/ anyone and everyone who has a kid going off to college: Mama Bear Forms are a MUST.
As always, I am so very glad you're here. YOU are a true gift.
I loved this and wanted to share:
cheers,
amy
ps. These first few weeks are SUPER hard. YOU GOT THIS. We CAN do hard things.
​
​
You're getting this email because you signed up for the coolest club around: teach mama's Take 5, or you recently grabbed a freebie printable from teach mama. Either way, HEY! Happy you're here! If someone forwarded you this email, that's AWESOME! But please be sure to subscribe yourself so that you don't miss a beat--and grab the Top 5 Must-Read Books for Baby - Teens as a fun bonus! If you want out of this club, scroll to the bottom of the email--instructions are right there! Totally cool. I get it!
​
---
---
1.) LAST CALL: LET'S CLEAR THE LISTS--
(This is the last week we're sharing! We just keep getting new folks on our list, and this is important stuff!)
What EVERYONE needs to know:
Please start here:
​
FOR EDUCATORS:
​
FOR ALL THE GOOD PEOPLE WHO WANT TO HELP:
Click on an Amazon Wish list link and help where you are able! bit.ly/HELPclearthelist​

Share the spreadsheet with friends, family, neighbors who want to help support classrooms!
​
FOR EVERYONE--PROMOTE 'CLEAR THE LISTS':
FIRST, please watch this quickie Amy on IG video:
Please, please, PLEASE--if you have already added your list to the spreadsheet, WE NEED YOUR HELP by promoting so that we get more eyes on the post, and more people funding.
Visit the blog post below, grab images, and share, share share!
​
USE THESE IMAGES (or use your own!) and LINK TO: https://teachmama.com/help-teachers-clear-the-list/​
---
Sample captions for Instagram, Twitter, Threads, Pinterest, or Facebook:
​
Let's help educators #ClearTheList because we all know #teachers need more than 🍎s to help their students learn and thrive! Help now: bit.ly/HELPclearthelist #clearthelist2023 #bts2023
​
It's #BacktoSchool which means that #educators everywhere are scrambling to get their classrooms ready. THEY NEED HELP, and that's where YOU come in! Learn more here: bit.ly/HELPclearthelist​
​
[tag some big brands so they can help, too!]
Skip the [insert brand: DunkinDonuts / McDonalds / Chipolte / Starbucks ] today and instead treat a #teacher to something he/she needs for her/his classroom! Learn more: bit.ly/HELPclearthelist #clearthelist2023 #bts2023
​
[tag all of your educator friends!]
HEY, #TEACHER friends! Do you have an #AmazonWishList for your classroom? Share it here: bit.ly/tmmclearthelist Let's work together to #ClearTheList !!
​
​
---
2.) Activities for Hispanic Heritage Month from Pear Deck
Do you use Pear Deck in your classroom? Pear Deck is an interactive presentation and lesson delivery tool that can be used via the web or as an add-on or integration with a variety of other programs. Students join teachers' Pear Deck sessions with codes and then use their devices to follow along with the teacher's slideshow on a classroom screen. (Read a full review on Common Sense Media.)
Use this Deck to help kids learn about the importance of Hispanic Heritage Month!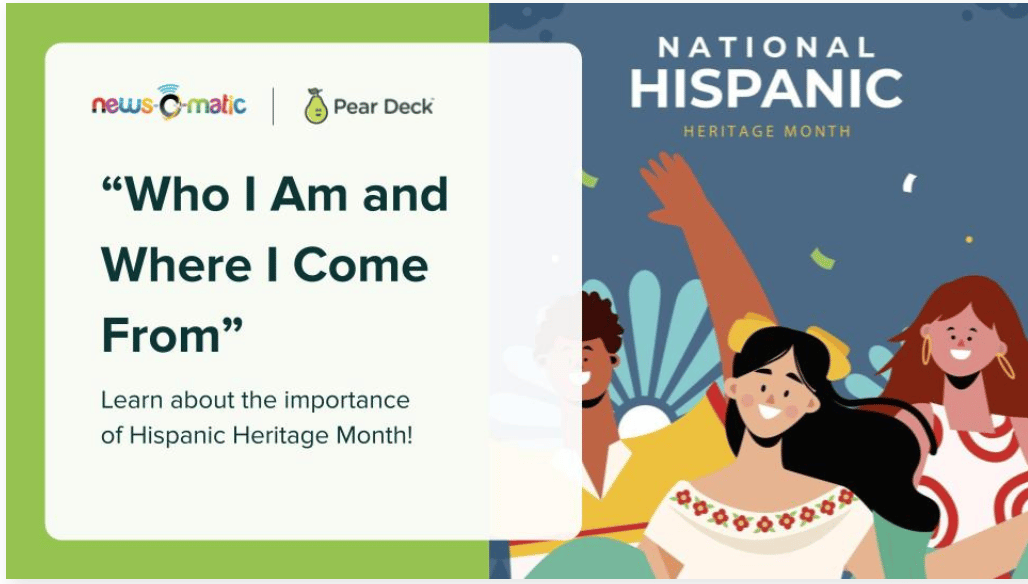 Click the image above or link here: Pear Deck--Hispanic Heritage Month​
​
---
---
3.) ​Remembering 9/11: An Incredibly Moving Tribute by NPR
Twenty-two years ago. It's difficult to wrap my head around the fact that it's been that long since the 9/11 Attacks.
If you're curious about my memories of that fateful day, I shared last year on IG.
This year, I stumbled across this incredibly moving piece by NPR that I had to share. Give yourself the gift of watching this when you have a few uninterrupted moments.
Grab a tissue--or ten.
Just sit and watch.
And count your blessings.
​
Click the image above or find the video here --> They Lost Loved Ones In 9/11. We Invited Them To Leave A Voicemail In Their Memory | NPR​​​​
​
---
---
4.) De-Mystifying Dyslexia: Everything you need to know
I'm super excited about this new series I'm doing on social, called "De-Mystifying Dyslexia".
​​
As an educator, I'm always trying to share important information—because I really think that when we know better, we do better. This series is part of my final project for a course I'm taking through Advancement Courses called 'Understanding Dyslexia'.
And as a reading teacher, I need to know all I can about this condition. What I realized is that I had a lot to learn—maybe you, as a parent or teacher yourself, can also stand to learn a little bit.
Maybe, like me, you've grown up thinking that dyslexia was a condition where people read letters backwards—b for d or p for g? Maybe you thought, like I did, that if a person was dyslexic, they saw all of the letters jumbled together on the page? I'm here to tell you that both of those things are untrue.
So if you would like to learn a little about dyslexia—if you would like for me to 'de-mystify dyslexia' for you, then follow along!
The series will be shared on IG stories, on tik-tok, on the teachmama facebook page, and in the Take 5 newsletter--right here each week.
Look for the logo on social, and if you want to receive the whole thing via email, then sign up for Take 5 on the link below.
​
​
I'm really excited about this. It's taken a long, long time to create, and the only thing I ask is that you, once viewing it all, could take 2 minutes to give me some feedback. There will be a google form on the last of the slides, at the end of the series. I thank you, I appreciate you, and I look forward to learning along with you.
​
​​​
---
---
5.) Celebrate Books & Reading and Decorate Your Classroom!
Use these Favorite Book posters with students or kids any time of the year.
I created them a while back and used them with my Kinder/ First Grade and Third Grade. They made the room look SO fun, and the kids even wanted to create new ones after a few weeks when their favorite books changed. . . :)
These are brand-new in the teachmama shop but not on the blog yet. If you use them please please tag me in a photo!
​My Favorite Book posters in the shop --> My Favorite Book posters​
FREE DOWNLOAD for Take 5 Subscribers --> my fave book simple & more teachmama.com.pdf​
​
​
---
---
---
​
Get Yourself Some FREEEEEE Food (& tons of other stuff!)
​
I have exerted almost zero effort, and I've earned $300 from Chipolte, $250 from Panera, $25 from DD. Guess what? That's quite a few lunches for my crew. I'll take it!
Friend, it's FREE.
Sign up for Fetch here and start off with 500 points!: Fetch Rewards​​​
Get the skinny: Watch my IGTV Fetch Highlights​
​
If someone forwarded you this email, that's AWESOME! But please be sure to subscribe yourself so that you don't miss a beat! Subscribe to Take 5 weekly and grab the Top 5 Must-Read Books for Baby - Teens while you're at it!
---
---
Take 5 Archive
FYI: The archive will soon be available to Take 5 subscribers. If you're interested, stay tuned!